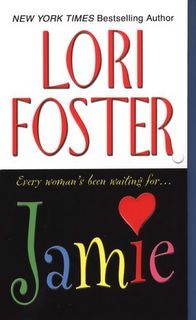 Every woman's been waiting for him…

I've been waiting for this book since I met Jamie in Lori Foster's 'Say No To Joe?', and I have to say, it was well worth the wait.
In fact, it was that good, I read it twice, and believe me, that just doesn't happen that often!
As I loved this book so much, I'm going to give it the respect it's due, and not do a KarenS stylie blurb, instead, I'll put pen to paper, and actually write a serious review-type blurb. (g)

Jamie Creed is the enigmatic recluse, whose presence in the town of Visitation has all of its townsfolk puzzled as to what his story is. The ladies want to mother him and the gentleman folk want to protect him from whatever it is he is running from, because you see, Jamie has a special gift.
He is a psychic, and has the extra special gift of precognition. Jamie lives up in the mountains, and only comes into the town whenever he senses any of the townsfolk are in danger. He is a mysterious modern day super hero to many of the people of Visitation.
Faith Owen is looking for Jamie Creed. She's been searching for him for a long time, and she needs to find him for reasons that only she knows.
She braves a vicious storm in order to try to reach him. She is injured, and exhaustion saps her strength, but her mission is an important one, and she knows that she cannot fail.
Jamie senses the stranger on his mountain, and goes to her aid. He is immediately suspicious of her presence on his territory, and doesn't know what to make of the woman who collapses in his arms. He has been alone too long, and cannot trust that she hasn't been sent by an old enemy. In spite of his suspicions, Jamie, carries her up to hill to his home. Naked.
Before she passes out on his bed, Faith reveals who she is, without giving him an explanation for her visit.
Jamie is drawn to Faith in a way that is alien to him, he is not used to the emotions that grip him whenever he's near to her, so he must find out what her purpose for looking for him is, and send her back to wherever she came from, before she insinuates herself deeper in his heart.
He has his reasons for being alone, and he refuses to give in to Faith's appeal, even though with every look she burns him up.

Sheesh, this is why I hate writing proper blurbs, they just take too many brain cells to do!
My Thoughts:
What I loved about this book, is that Lori didn't deviate from the Jamie that I've glimpsed in previous Visitation books. I still felt the same sense of awe that I had felt in previous books, apart from now, I was able to satisfy my craving for more of him.
Jamie is exactly the kind of romance hero that I love, strong, caring, and sexy as hell. Lori Foster created a hero in Jamie, who women of all ages will love and adore, without exception.
Faith is a vulnerable, yet strong heroine, who doesn't shy away from her feelings for Jamie, and desperately wants to care for him, if only he would let her. She knows things about him that nobody else is privy to, she knows his strengths and weaknesses, and appreciates him for the kind and caring soul that he is. Just my kind of heroine.
The attraction between Faith and Jamie fairly sizzled off the page, and throughout the reading of this book, I was kept on tenterhooks.
I love the strength in depth that Lori's characters have. Throughout the book, I felt as if I was visiting old friends, and I love it when an author is able make me feel that way.
This book tugged at my emotions without any obvious effort from the author. I'm used to my feelings being manipulated in most books, but in this case, Lori Foster just didn't have to work that hard, which is a very rare talent indeed.
Lori Foster fans will automatically go out and buy this book, but if you've never read a Lori book, I urge you to start with Say No To Joe?, and work your way up to Jamie, I promise you, it'll be worth every penny!!